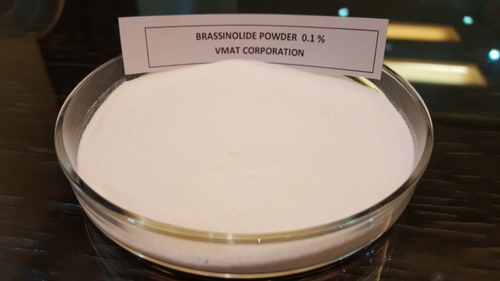 Product Description
Brassinolide Powder
Having immense expertise in the market, we are engrossed in offering top grade Brassinolide Powder. This powder promotes the growth and immunity of plants for increasing overall yields. The provided powder is processed using quality-checked compounds and sophisticated methodology by our adept professionals at advanced production unit. Further, the offered Brassinolide Powder can be purchased from us at competitive prices within committed time frame.

Key Points:

Highly effective
Improves growth of germinating seeds
No adulteration
Extended shelf life
BRASSINOLIDE
Brassinosteroids were first isolated from pollen grain of rape flowers (Brassica sp) Chemical Name : 2a, 22R - Tetrahydroxy-24S-cymene-b-7 oxygen-5a gallbladder - 6 - ketone.

Brassinosteroid: It is plant steroid
Molecular weight: 494
Solubility: Isopropyl alcohol, Methanol, chloroform and acetone.
Non toxic: It is safe to human, birds and fish.

• WHAT IS BRASSINOLIDE?
Its new 6th generation plant growth hormone after Auxine, Gibberellins, Cytokinins, Absasic Acid, and Ethylene.
It is polyhydroxy steroid.
It interact with GA in cell wall elongation
It works independently to increase cell division.
It shows synergetic effect with many plant growth regulators, Such as GA, BA, NAA.
It is effective at very low concentration say PPB (Parts per billion)

HOW IT HELPS PLANT TO GROW BETTER AND YIELD MORE?
Accelerated cell division and cell elongation, increases diameter, weight and size of fruits.
When used in combination with GA gives best results
Cell wall expansion takes place.
Improves the fertility of reproductive organs when used at flowering stage.
Increase photosynthetic activity.
It keeps fruit green for longer time.
Seed weight increase, bolder seeds are produced.
Increase in plants resistant powers towards disease and harsh condition.
It helps plant to overcome phyto toxicity effect of other chemicals.
It increases ability to resist drought.
New rooting comes out after spray.
It increases enzyme and hormone production in plants to help in more Sugar formation and more Nuclic Acid production.
Quality of fruit improves due favorable factors. Such as more TSS, Brix, Ascorbic Acid etc.
Promotes early and uniform seed germination. As results of research conducted in 20 different countries, it was found that brassinolide could improve the production in Wheat, Paddy and Corn by 15-30%, Fruits 15-30%, Vegetables by 20-50% and oil seed crops by 20-30%
Technical specification

| | |
| --- | --- |
| Usage | Agriculture |
| Packaging Size | Bag |
| Color | White |
| Brand | Vmat Corporation |
| Grade Standard | Bio-Tech Grade |
| Physical State | Powder |
Contact Us
B1, Royal Residency, Pushpanagri, CBS Road, Aurangabad, Maharashtra, 431001, India
Phone :+918068091685