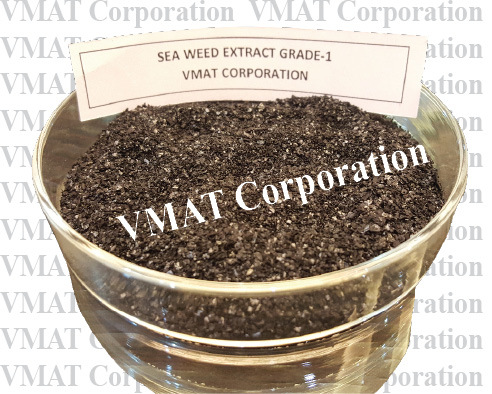 Product Description
Seaweed Extract
Well-known in the agriculture sector, we are experts in manufacturing and supplying of a wide array of Seaweed Extract. We offer clients highly useful extracts of sargasum and aschophyllum which enhances the absorption of soil nutrients in plants. All these extracts are also strengthened with amino acids, humic acids and fulvic acids with preservatives and emulsifiers for an improved shelf life. Entire stock of manufactured Seaweed Extract is tested for purity and its compositions.

Features:
Minimizes the rate of aging of plants
Enhances plants resistance against unfavorable weather conditions
Protects against parasites

More Details of Seaweed Extract
We can offer the clients with 100% water soluble and imported seaweed extract of Aschopyllum and Sargasum. We also have organized to repack formulation in bulk. This contains organic components (Gibberline, Auxine, Micro elements and Cytokine). Seawood extracts are available with us with strengthened amino acids 8%, Fuvic acid (6%) and Humic Acids. Emulsifier and proper preservative are incorporated to attain improved shelf life for avoiding fermentation.
Seaweed can hence be quite effective as a fertilizer appendage to aid restoration of the soil conditions.
Enhancement in biological activity
Promotes seed germination
Improved absorption by plants of soil nutrients
Improves growth of radicular systems
Decrease in transplantation shock and improved growth
Promotes formation of chlorophyll
Enhances blooming interval and fruit quality and quantity
Decreases the aging procedure
Improved resistance against high temperature situations and parasites
Longer shelf life

Dose: For spray 100-150 gm powder mixed with 200 Ltr water for 1 Acre. 1 Grm powder mixed with 1 Kg seed for seed treatment.
Dose: To 2ml per ltr. Spray water 12% seaweed extract is added and 200-250 ml solution spread per acre of land.
Technical specification

| | |
| --- | --- |
| Color | Black |
| Pack Size | 25 kg |
| Usage | Agriculture |
| Pack Type | Bag |
| Grade | Agriculture Grade |
| Solubility (%) | 100 % |
Contact Us
B1, Royal Residency, Pushpanagri, CBS Road, Aurangabad, Maharashtra, 431001, India
Phone :+918068091685